ROYAL DOULTON LAMBETH Stoneware SIMEON TOBY JUG Marriage Day/After Marriage 8595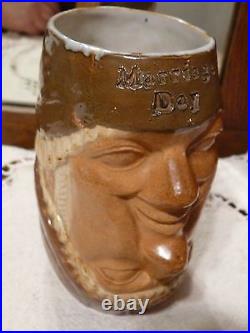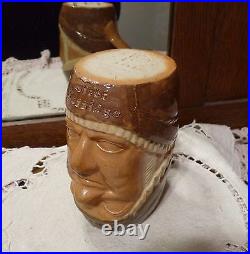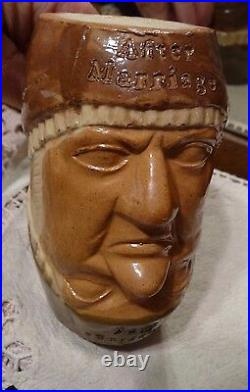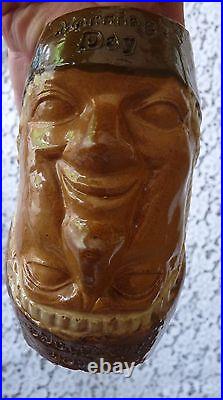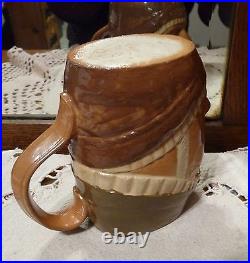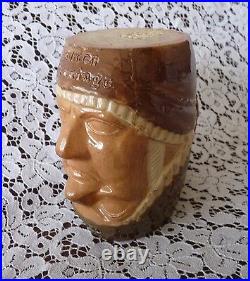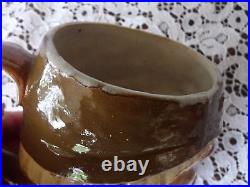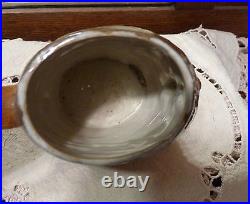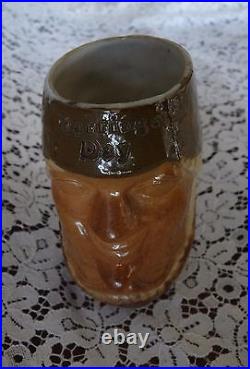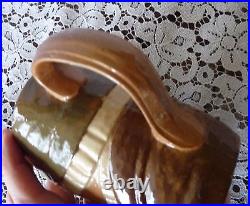 FACTS ON HARRY SIMEON who worked for Doulton 1896 - 1936: Harry Simeon, was one of Doultons most versatile and talented artists and many Doulton collectors are impressed by the diversity of his designs.. After his studies were complete. Harry joined Doultons Lambeth studio in 1896.. Harry's bold linear designs were ideally suited to the raised tube-lining and pigment brush line methods used at Doulton in the early 1900s.. He designed an extensive series of tobies, tobacco jars, ash pots, ink wells and candlesticks.. The stoneware toby jugs made at the Lambeth factory were also modeled by Harry Simeon. His inventiveness showed at its most brilliance in the range of Toby wares he began in 1924, when he took the traditional English Toby jug.
Keen toby jug collectors seek out all the different color and modeling variations that exist in this popular series from all around the world. Simeon's asssociation with Doulton came to an end in 1936. A few years ago the Victoria and Albert Museum in London were delighted to receive a collection of Harry Simeon's work from his daughters. So Harry Simeon is well represented at this world famous museum.
This fabulous, small stoneware piece features the olive green top of this jug showing the words "Marriage Day" above a smiling face. When flipped over, the brown reveals the words "After Marriage" inscribed above a frowning face.. Impressed Doulton markings on the bottom of the character jug along with numbers 8595..
Showcase quality and would make a fantastic gift or display piece. Light signs of previous ownership should be expected consistent with age.. Pictures were taken to view.. Just re-package in its original packaging materials, box and insured (or similar in size).. The items I sell are vintage, antique pieces and have been previously owned - these are not new store bought items... I also do my best to give detailed information on the vintage items. Keep in mind they are vintage (old) and will have flaws. If item is damaged, SAVE ALL PACKAGING MATERIALS and BOX for photo taking.. Will need to send me all pictures to start the claim..
Once I received the proof (pictures requested) of damage, will automatically start the claim.